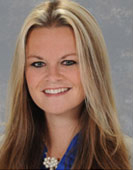 Kristine M. Dudley, Esq., serves as chief operations officer for Tower MSA Partners, which she co-founded in 2011. She has extensive knowledge and expertise in workers' compensation Medicare Set Asides and stays current on changes in the Centers for Medicaid and Medicare that impact settlements. A Medicare Set-Aside Certified Consultant, she reviews MSAs, negotiates conditional payment liens and resolves legal obstacles to settlements. As COO, she oversees operations and administrative management activities.
Previously, Kristine practiced law in South Florida, primarily in the areas of workers' compensation, corporate litigation, corporate defense, and wills and estates.
She earned her undergraduate degree in Business Marketing from the University of Tennessee at Chattanooga, graduating with honors and being named to the National Collegiate Athletic Association Academic All-America team. Kristine received her juris doctorate from Florida State University College of Law and is a member of the Florida Bar, the South Florida Bar Association and the National Alliance of Medicare Set-Aside Allocation Professionals.