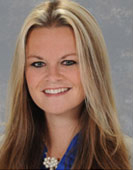 An attorney and Medicare Certified Consultant, Kristine M. Dudley, Esquire is the co-founder and Chief Operating Officer (COO)  of Tower MSA Partners. Her responsibilities included overseeing the company's administration and operations.
Kristine's deep knowledge and expertise in workers' compensation, Medicare Secondary Payer compliance, and Medicare Set-Asides has made her a popular speaker and respected source for media in the industry.  Passionate about helping clients settle claims, she reviews MSAs, negotiates conditional payment liens, monitors clinical interventions, and resolves legal obstacles to settlements.  Kristine was instrumental in the development of Tower's MSA 2nd Opinion service. 
Previously, Kristine practiced law in South Florida, primarily in the areas of workers' compensation, corporate litigation, corporate defense, and wills and estates.
Kristine earned her juris doctorate from Florida State University College of Law and is a member of the Florida Bar, the South Florida Bar Association. Earlier she attended the University of Tennessee at Chattanooga on a tennis scholarship and played on the National Collegiate Athletic Association Academic All-America team.
Kristine is a member of the National Medicare Secondary Payer Network (formerly the National Alliance of Medicare Set-Aside Professionals).
Related
Follow Kristine M. Dudley on LinkedIn
Women's History Month: Celebrating Tower's History as a Women-Owned Business
WEBINAR – Grasp Success in Settling Workers' Compensation Cases