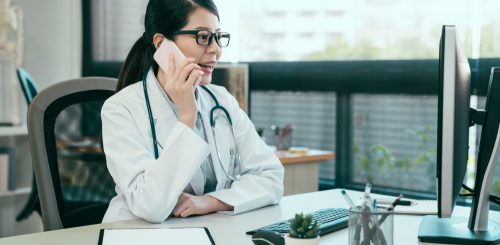 PHYSICIAN FOLLOW-UP
Our complimentary Physician Follow-Up service saves money by tying up any loose ends in necessary CMS documentation and records.
As physicians treat injured workers over time, they try different medications and consider different procedures and treatments.  Sometimes they mention avenues they will consider if current therapies do not produce the desired outcomes.  And a possible surgery, implant or spinal cord stimulator gets recorded in the medical records.
Although they may be forgotten by the provider, payer, and injured worker, these potential surgeries and therapies and their costs tend to surface when time comes for settling the case.
Tower's forensic claims analysis process discovers treatment and pharmaceutical issues that will result in higher exposure and MSA allocations if not addressed. That's where our Physician Follow-up service comes in:  to tie up these loose ends.
With our client's approval, our team will contact the treating physician(s) to:
Clarify ambiguous medical treatment
Find out if procedures, surgeries, or other therapies are still being considered
Share information about multiple prescribers or pharmacies and duplicative or very similar medications
Discuss high doses of opioids and other addictive drugs
Ask the provider to consider tapering programs and alternative pain management options
Determine the current frequency of urine drug tests if applicable
Confirm the discontinuance of medications
Request a switch from brand drugs to generics
Obtain the last treatment date
Confirm the current injury-related drug regimen
Once this has been done, Tower drafts physician statements, obtain the providers' signatures and documents current treatment information and records language that complies with state jurisdictional requirements and enables the Centers for Medicare and Medicaid Services to be able to approve the MSA.
This valuable Physician Follow-up service is provided at no extra charge when Tower prepares an MSA or works with clients on conditional payments or settlements.  This service alone saves clients hundreds of thousands of dollars on their claims. See the case study on our Successes page: Physician Follow-Up Case Study