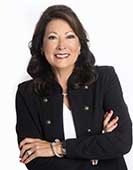 As co-founder and Chief Executive Officer of Tower MSA Partners, Rita Wilson oversees business development, sales, marketing and identifies new service offerings to support Medicare Secondary Payer compliance. She is the driving force behind Tower's technology and commitment to cybersecurity.
Her passion for technology driven MSP compliance and Medicare Set-Aside processes comes as no surprise. Rita spent the first 15 years of her career working in technology and pharmacy management.
She served as Director of Research and Development for QS/1 Data Systems, a company that developed pharmacy management software. Rita's team created the standards used for information exchange between group health pharmacy benefit managers (PBMs) and pharmacies.
She then accepted a position with a start-up workers' compensation PBM, DirectCompRx, Inc, a subsidiary of Fiserv, Inc. Rita built out its operational and technology model and ultimately became its CEO. In 2006, she moved to Florida and founded Select MRI, LLC, a diagnostic company and did some technology consulting for an MSP compliance company.
Naturally, when co-founding Tower, Rita leveraged technology to transform the paper intensive MSA process into an automated environment that could consistently execute workflow, target cost drivers, and accelerate settlements. From the ground floor, Tower built a sophisticated platform that seamlessly integrated every aspect of MSP compliance from Section 111 reporting, conditional payments, pre-MSA triage, clinical interventions, and MSA preparation, through CMS submission and approval.
Rita stays up to date with the latest technologies, applications, trends, and especially security threats.  She makes sure Tower's IT systems and processes maintain the most stringent standards of protection and oversees the company's annual SOC 2 Type II audit.
Rita obtained a Bachelor of Science degree, summa cum laude, from Presbyterian College in Clinton, SC and completed graduate studies at Converse College in Spartanburg, SC. She was the 2018 President of the National Alliance of Medicare Set Aside Professionals (NAMSAP), now the National Medicare Secondary Payer Network.
Related
Follow Rita Wilson on LinkedIn,
View posts by and about Rita on the Tower MSA Partners Blog and follow Rita Wilson on LinkedIn, including these;
Tower CEO Rita Wilson Talks MSAs and Metrics in WorkCompWire's Leaders Speak
Women's History Month: Celebrating Tower's History as a Women-Owned Business
Building a Better Tower – Cybersecurity