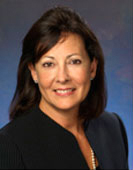 As CEO of Tower MSA Partners, LLC, Rita Wilson oversees all business development, sales, marketing and operational activities, IT systems development and identifies new product offerings in support of Medicare Secondary Payer compliance.
Rita gained a wealth of expertise in information technology solutions and performance metric evaluations while holding leadership positions in pharmacy software development, pharmacy benefits management and workers' compensation managed care companies for more than 20 years.
Prior to co-launching Tower MSA Partners in 2011, she founded and ran Select MRI, LLC, a diagnostic company, and Speedy Re-employment and Medicare Set Asides, an MSP compliance company. Previously, Rita built out the operational and technology model for another startup, DirectCompRx, Inc., a subsidiary of Fiserv, Inc., ultimately becoming its CEO.
Before moving into the workers' compensation industry, she spent 15 years in software development for retail pharmacy and PBM serving as Director of Research and Development for QS/1 Data Systems. Rita obtained a Bachelor of Science degree, summa cum laude, from Presbyterian College in Clinton, SC and completed graduate studies at Converse College in Spartanburg, SC. She has served in member and/or board of director capacities with the American Society for Automation in Pharmacy (ASAP), the National Council for Prescription Drug Programs (NCPDP), Health Level 7 (HL7), and the National Council of Self-Insurers (NCSI) and as President of the National Alliance of Medicare Set Aside Professionals (NAMSAP) in 2018.
View posts by Rita on the Tower MSA Partners Blog and follow Rita Wilson on LinkedIn!