WorkCompCentral, Tower MSA Partners & Ametros Invite You to a Webinar on Optimizing MSAs: Before & After Settlement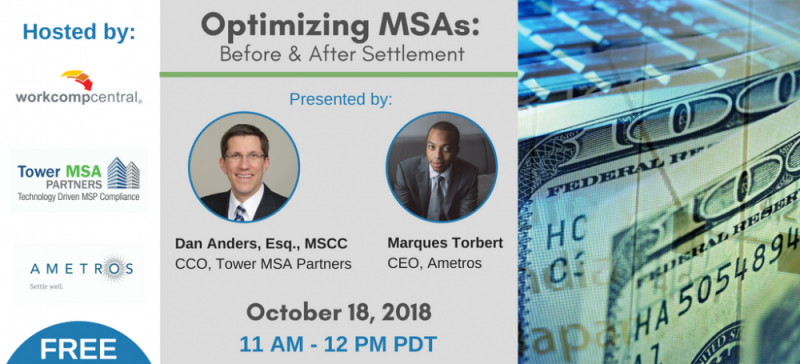 The trusted source for the latest news in workers' compensation, WorkCompCentral.com, hosts the leading innovators in Medicare Set-Aside development and administration, Tower MSA Partners and Ametros, in an upcoming webinar on the topic of Optimizing MSAs: Before & After Settlement. This free one-hour webinar will be presented by Tower Chief Compliance Officer Dan Anders, Ametros CEO Marques Tolbert, and will be held on Thursday, October 18, 2018 at 2 PM EDT.
Overview:
Settling work comp claims calls for a tricky balance. Payers want to limit the amount of money that is allocated to a Medicare Set-Aside and injured workers worry about running out of money for their work-injury related medical bills. How do you balance these competing interests? This webinar shows how pairing an intervention-driven MSA partner with a supportive professional administrator can produce a fair and reasonable MSA allocation and still protect and extend those allocation dollars over an injured worker's life expectancy.
Attendees Will Learn How:
To balance the interests of payers and injured workers when settling claims.
An accurate drafting of the MSA provides its own cost savings.
To identify MSA cost drivers and how to apply clinical interventions to reduce them.
The right professional administrator can reduce the costs of medical and pharmacy care for the injured worker after settlement.
Professional administration can support an injured worker after settlement and protect and extend the life of the settlement
These lessons will help you drive claims to settlement and reduce those settlement costs while ensuring the injured worker has sufficient funds for future medical care. Don't miss this opportunity to learn from these MSA experts!
Registration can be completed by following this link to the WorkCompCentral website or calling (866) 975-2667.
Thank you!