Simple Cost Savings with a Structured MSA Premier Webinar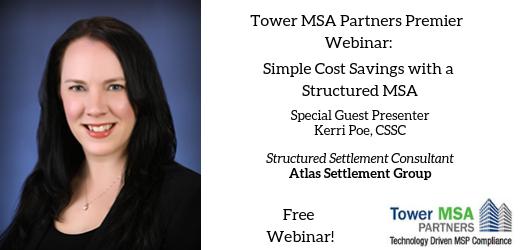 Wednesday, January 23, 2018 at 2:00 PM ET
One of the simplest ways to lower the cost of settlement is through a structured Medicare Set-Aside. Not only does this reduce the employer or insurer's cost of funding the MSA, it also provides the injured worker a consistent stream of funds for injury-related medical care over his or her life expectancy. This hour-long webinar will show how structured MSAs help all the stakeholders involved in a settlement – the injured party, Medicare and the insurance carrier or employer.
On January 23rd Tower is pleased to host Kerri Poe of Atlas Settlement Group for an informative presentation on structured MSAs as part of settlement. This webinar is intended for anyone involved in the management or handling of workers' compensation or liability claims and for plaintiff and defense attorneys. By attending this free webinar, you can expect to come away with the ability to:
Understand how structured MSAs work and recognize the benefits they provide to the injured worker/claimant, employer/insurer and Medicare
Explain the methodology by which CMS calculates a structured MSA
Convert a CMS-approved lump sum MSA to a structured MSA
Define the role of a structured settlement broker pre-settlement, during settlement negotiations and post-settlement.
Case Studies will be included, and attendees will have an opportunity to ask questions.
Hope to see you on January 23rd!
Dan Anders
Chief Compliance Officer

Background on Guest Presenter, Kerri Poe, CSSC:
Kerri Poe is head of Atlas Settlement Group's Los Angeles office. Her experience spans Workers' Compensation, Longshore and Harbor Workers' Compensation Act, liability, and employment litigation nationwide. Kerri brings value to both sides of the negotiation by facilitating settlement and working as an advocate to the settlement process.
As part of the settlement team, Kerri assists with case evaluation, prepares settlement proposals, attends conferences and mediations and reviews legal documents to ensure the tax benefits of the structured settlement are preserved. Her extensive experience with Medicare Set-Asides and the integration of public benefits allow her to provide needs-based financial options for the injured party.
Her specialties include assisting with case evaluation, preparing settlement proposals, and attending settlement conferences and mediations. Kerri also performs file reviews and client trainings and has been a guest speaker at several claims associations, risk management groups, and settlement annuity seminars. In addition to being a member of the National Structured Settlement Trade Association, she is the Chairwoman of its Legislative Committee.
Kerri began her structured settlement career in 1997 as a Case Manager for a national structured settlement firm in Tampa, Florida and Houston, Texas. She also has experience as a Business Analyst and Project Manager for a prominent benefits administration firm and as the Regional Operations Manager for a large fund-raising company.