Everything You Wanted To Know About MSAs, But Were Afraid To Ask — Tower Premier Webinar – July 24, 2019 2PM ET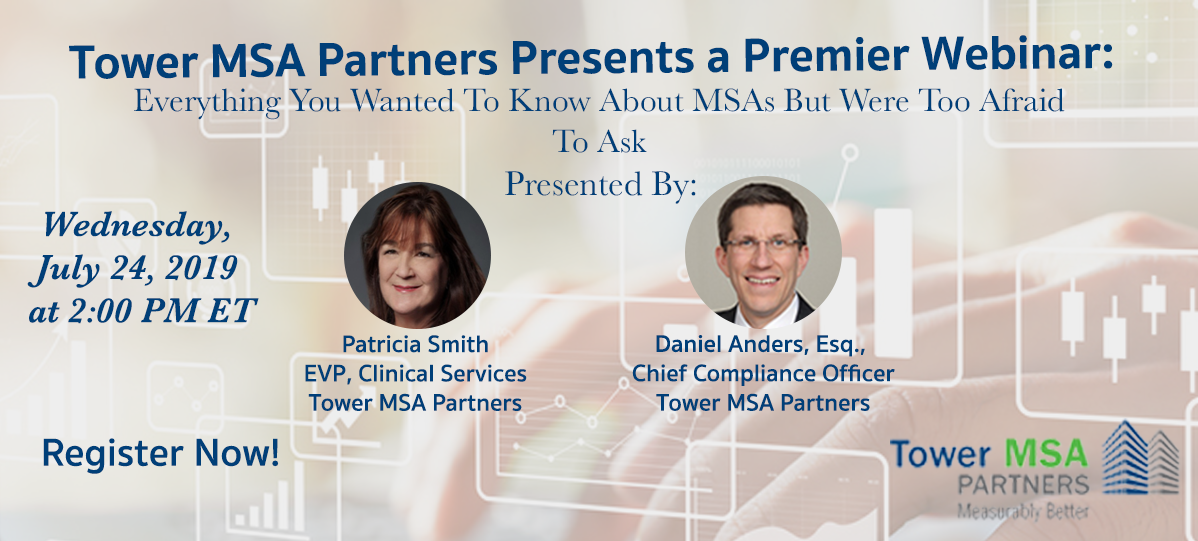 Why does CMS do what they do when it comes to MSAs? Many a claims professional and injured worker have probably pondered this question. Well, the wait for answers is over. On July 24, 2019 at 2 pm ET, Tower MSA Partners EVP of Clinical Services Patricia Smith and Chief Compliance Officer Dan Anders host an engaging hour-long webinar discussing all matters MSA.
With over 30 years of MSA experience between them, Pat and Dan will tackle some of the routine and unusual questions that arise when drafting an MSA and submitting it to CMS for approval, like:
Do I need an MSA?
What documentation is necessary to draft the MSA?
What does Medicare-covered or not Medicare-covered mean to the MSA?
Is the allocation different if the MSA isn't submitted to CMS?
How are costs of treatment and prescription medication calculated?
How is life expectancy calculated and how does a rated age impact this calculation?
IMEs, AMEs, PQMEs, UR, and IMRs, oh my. What role do these play in the MSA calculation?
Rechargeable vs. non-rechargeable spinal cord stimulator, why does it matter?
When can I use an Amended Review?
Under what circumstances is a $0 MSA appropriate?
If you want to know more about the how and why of MSAs, this free webinar is for you. And, if there is something about MSAs you've always wondered about, ask us! When you click on the registration link below you will not only be able to register, but you can also submit a question to be answered during the webinar.
Hope you can join us on July 24 at 2 pm ET!
Dan Anders
Chief Compliance Officer