How Do You Know Your MSP Compliance Data is Secure?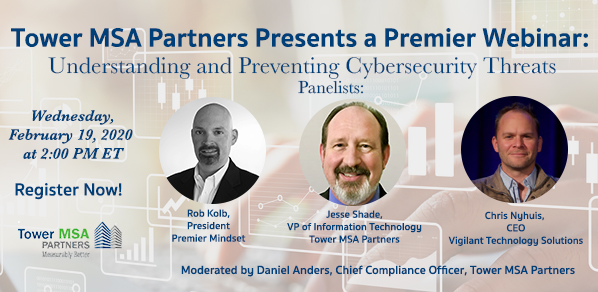 Understanding and Preventing Cybersecurity Threats
February 19, 2 PM ET
Minnesota Hospital Breach Impacts Personal and Medical Data of 50,000 Patients
A Billion Medical Images Exposed, but Doctors Ignore Warnings
Names, Social Security Numbers Exposed in Moss Adams Breach
These headlines ran in just the past 30 days. How secure is your MSP compliance data? A 2019 report from IBM Security and the Ponemon Institute puts the chance of experiencing a data breach within two years at 29.6%. Are you ready?
But why is a MSP compliance company bringing up data security? Because as a holder of hundreds of thousands of records with personal identification information (PII) and personal health information (PHI), cybersecurity and protecting client data are central to our business.
Data security responsibility goes from the desk level to the head of IT to the CEO and everyone in between–including your vendors. Tower is pleased to help you protect your injured workers' data with this informative webinar How do you know your MSP Compliance Data is Secure? Understanding and Preventing Cybersecurity Threats
Moderated by our Chief Compliance Officer Dan Anders, Esq., a panel of information technology and cybersecurity specialists, Tower's VP of Information Technology, Jesse Shade, Chris Nyhuis, CEO, Vigilant Technology Solutions and Robert Kolb, President, Premier Mindset, will:
Illustrate the threat to organizations of all sizes, through real-life examples and data.
Describe the intersection of cybersecurity and MSP compliance.
Explain how cybercriminals snatch and use personal data.
Propose simple desk level and higher-level systematic measures to prevent data breaches.
Invite your IT professionals and senior leaders to join us.
When you click on the link below to register, you can also submit a question to be answered during the webinar.
Hope you can join us on February 19 at 2 pm ET.
Stay safe,
Dan Anders
Chief Compliance Officer