WEBINAR – Grasp Success in Settling Work Comp Cases
Posted on October 28, 2020 by Tower MSA Partners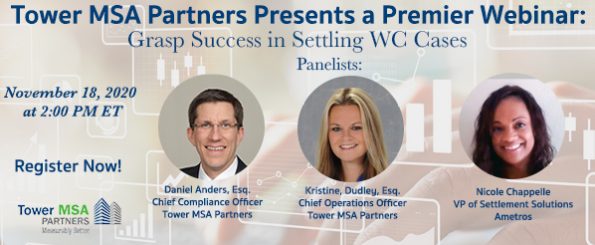 Seeking the formula for success in settling work comp cases with Medicare Set Asides (MSAs)? We've got you covered. 
A Chinese proverb says, "The temptation to quit will be greatest just before you are about to succeed."  For workers' compensation practitioners case closure represents success.  However, the impediments presented by the need for an MSA to close a case often are a temptation to quit when success is within your grasp.
On Thursday, November 18 at 2:00 PM ET, Tower's Chief Operations Officer, Kristine Dudley and Chief Compliance Officer, Dan Anders, will be joined by special guest, Nicole Chapelle, VP of Settlement Solutions for Ametros, to provide the formula for success in settling work comp cases with MSAs.
Here's just some of what you will learn:
The latest on ways Medicare makes CMS MSA approval difficult or drives up MSA costs and how to meet these challenges.
Straightforward clinical interventions and case settlement strategies which reduce the MSA amount and allow for quick CMS MSA approval.
Easing the settlement concerns of the injured worker by transitioning to MSA professional administration or self-administration assistance for future medical care.
You will also learn that all of this can be done without increasing your work in successfully resolving the case.
A Q&A session will follow the presentation.  Please click the link below and register today!
Related:
Search our blog:
Contact Us for a FREE Consultation