The Patel Memo Launched the Medicare Set-Aside Review Process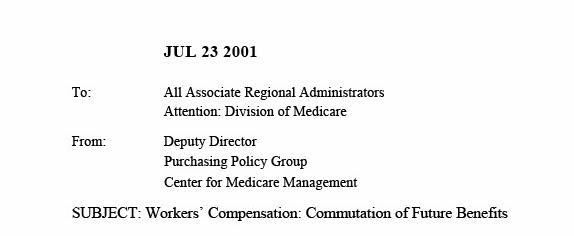 The Patel Memo Launched the Medicare Set-Aside Review Process
Last week, July 23, 2021, to be precise, marked the 20th anniversary of the Patel Memo, which set the stage for the Medicare Set-Aside industry as we know it. Released under the name of Parashar B. Patel, Deputy Director, Purchasing Policy Group for the Centers for Medicare and Medicaid Services (CMS), the memo was directed to the CMS Associate Regional Administrators on the subject of "Workers Compensation: Commutation of Future Benefits."
It addressed questions sent to CMS regional offices from attorneys who were settling workers' compensation cases and submitting MSAs to regional offices for review and approval. Although there were some MSAs before this time, the Patel Memo of July 23, 2001, had a pivotal impact and led to the start of several MSA and MSP compliance companies, including Tower MSA Partners 10 years ago.
The memo cited regulatory authority and gave a green light for the regional office review and approval process for submitted MSAs, including criteria and thresholds for review for non-Medicare beneficiary claimants.  It established instructions for the regional office to add the MSA to the CMS common working file and annual accounting requirement for the MSA administrator once the MSA was funded.  The memo also acknowledged structured set-aside arrangements, confirmed that an MSA should be allocated over life expectancy and allowed for fee schedules as a basis for allocating care.
Some of its provisions did not stand the test of time and were eliminated by subsequent CMS memos. These included a prohibition on the use of the MSA funds before Medicare entitlement, indexing the MSA for inflation, and regional office review of the administrative fee and expenses to be charged to the arrangement.
Although the WCMSA Reference Guide officially supplanted the Patel Memo, the memo laid the foundation for the WCMSA review process.
If you'd like to know more about the man behind the memo, listen to this interview conducted by Shawn Deane, General Counsel of our professional administration partner Ametros.