A Claims Professional's Guide to Common MSP Acronyms and Abbreviations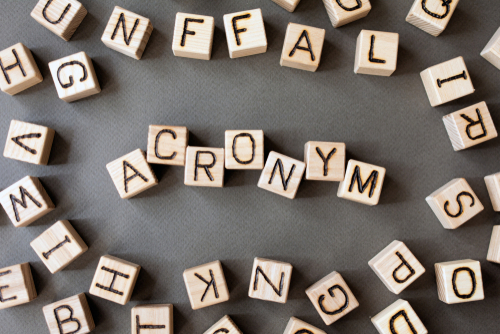 People in the MSP compliance business rattle off acronyms and abbreviations, such as AWP, MMSEA, and TPOC like it's second nature. People immersed in Section 111 reporting and Medicare Set-Asides understand the abbreviations, but most people listening to us do not. So, here's a quick cheat-sheet (or handy guide) to frequently used acronyms and their meanings:
Common MSP Acronyms and Abbreviations

AWP – Average wholesale price:  The AWP is a Red Book pricing reference for prescription drugs. The lowest AWP is used to calculate Medicare Part D drugs in a Workers' Compensation Medicare Set-Aside (WCMSA).
BCRC – Benefits Coordination & Recovery Center: This contractor to the Centers for Medicare and Medicaid Services consolidates the activities that support the collection, management, and reporting of other primary insurance coverage for Medicare beneficiaries.  In short, it manages the MMSEA Section 111 reporting program and pursues conditional payment recovery when the claimant Medicare beneficiary is the debtor.
CMS – Centers for Medicare and Medicaid Services:  The federal government agency oversees the Medicare program.  CMS's Division of MSP Program Operations directly manages CMS's Medicare Secondary Payer (MSP) enforcement programs.
COB – Coordination of Benefits:  The coordination of benefits (COB) program aims to identify the health benefits available to a Medicare beneficiary and to coordinate the payment process to prevent mistaken payment of Medicare benefits.
CRC – Commercial Repayment Center: This CMS contractor pursues conditional payment recovery when the self-insured entity or the insurer is the identified debtor.
CWF – Common Working File: CMS uses this tool to maintain national Medicare records for individual beneficiaries enrolled in the Medicare program.  For example, a funded CMS-approved workers' compensation Medicare Set-Aside (WCMSA) will trigger a marker in the CWF, so Medicare will not pay for care covered by the WCMSA.
LMSA – Liability Medicare Set-Aside: General term for an MSA in a liability case settlement.
MBI – Medicare Beneficiary Identifier:  The Medicare Beneficiary Identifier (MBI) is the identification number replaced SSN-based health insurance claim numbers (HICNs) on all Medicare transactions, such as Medicare cards, billing, claim submissions and appeals.
MIR – Mandatory Insurer Reporting:  Another term for MMSEA Section 111 reporting.
MMSEA – Medicare, Medicaid, SCHIP Extension Act of 2007: Section 111 of this act added mandatory reporting requirements regarding Medicare beneficiaries who have coverage under group health plan (GHP) arrangements as well as for Medicare beneficiaries who receive settlements, judgments, awards, or other payment from liability insurance (including self-insurance), no-fault insurance, or workers' compensation, collectively referred to as Non-Group Health Plan (NGHP) or NGHP insurance.
MSA – Medicare Set-Aside: An account used to pay for injury-related and Medicare-covered medical services and prescription medications. It is a portion of a settlement that is reserved or "set-aside" for this purpose.
MSP – Medicare Secondary Payer: This is the term generally used when the Medicare program does not have primary payment responsibility, that is when another entity, such as workers' compensation or liability insurance or a group health plan, is responsible for paying before Medicare.
MSPRP – Medicare Secondary Payer Recovery Portal: A web-based tool designed to assist in the resolution of liability insurance, no-fault insurance, and workers' compensation Medicare recovery cases.
NGHP – Non-Group Health Plan: Typically used in reference to Section 111 reporting, NGHP includes liability insurance (including self-insurance), no-fault insurance, and workers' compensation.
ORM – Ongoing Responsibility for Medicals:  This refers to the Responsible Reporting Entity (RRE) paying for the injured party/Medicare beneficiary's ongoing medical treatment associated with the claim.
RO – Regional Office:  A CMS RO is assigned to each WCMSA case (based on the claimant's state of residence); that RO makes the final determination of the appropriate funding level for the WCMSA.
RRE: Responsible Reporting Entity: The applicable plan, namely the NGHP, responsible for Section 111 reporting to CMS.
SSDI – Social Security Disability Insurance: Pays monthly benefits to workers who can no longer work due to a significant illness or impairment that is expected to last at least a year or result in death within a year.
SSN – Social Security Number: A numerical identifier assigned to U.S. citizens and other residents to track income and determine benefits.
TPOC – Total Payment Obligation to the Claimant: For Section 111 reporting purposes, CMS uses the term TPOC to refer to the dollar amount of the total payment obligation to, or on behalf of, the injured party in connection with the settlement, judgment, award, or other payment in addition to/apart from ORM.
WCMSA – Workers' Compensation Medicare Set-Aside: This is a financial agreement that allocates a portion of a workers' compensation settlement to pay for future medical services related to the workers' compensation injury, illness, or disease.
WCMSAP – Workers' Compensation Medicare Set-Aside Portal: The WCMSAP may be used to submit and view WCMSA proposals, to communicate about the review approval process, and to submit re-review requests. Users can also view the status and balance of an established WCMSA and submit annual attestations and detailed transaction records.
WCRC – Workers Compensation Review Contractor: This CMS contractor reviews all submitted WCMSAs and advises the CMS Regional Office whether the proposed WCMSA is sufficient, or a higher or lower amount is recommended.