Medicare Conditional Payment Tune-up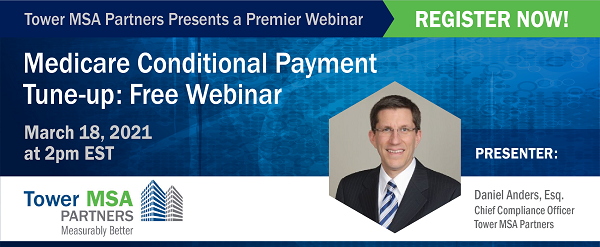 Resolving Medicare conditional payments should be standard practice when settling a workers' compensation or liability claim involving an injured worker who is a Medicare beneficiary.  However, there are still many questions around CMS Medicare conditional payment policies, practices of CMS recovery contractors and the extent of Treasury Department debt recovery.
Join Dan Anders, Tower's Chief Compliance Officer, on Thursday, March 18 at 2:00 PM ET, for a Medicare conditional payment "tune-up."  The free webinar will focus on:
When and how to communicate with the Commercial Repayment Center (CRC) vs. the Benefits Coordination and Recovery Center (BCRC).
Requesting and reacting to Medicare conditional payment recovery correspondence.
Dispute and appeal conditional payments: What works, doesn't work and sometimes works.
Resolving Treasury Department debt recovery actions
Dan will also provide an explanation of the PAID Act and expectations for the implementation of its provisions over the course of 2021.
A Q&A session will follow the presentation.  Please click the link below and register today!