PREMIER WEBINAR: Learn How to Take MSA Legacy Claims to Settlement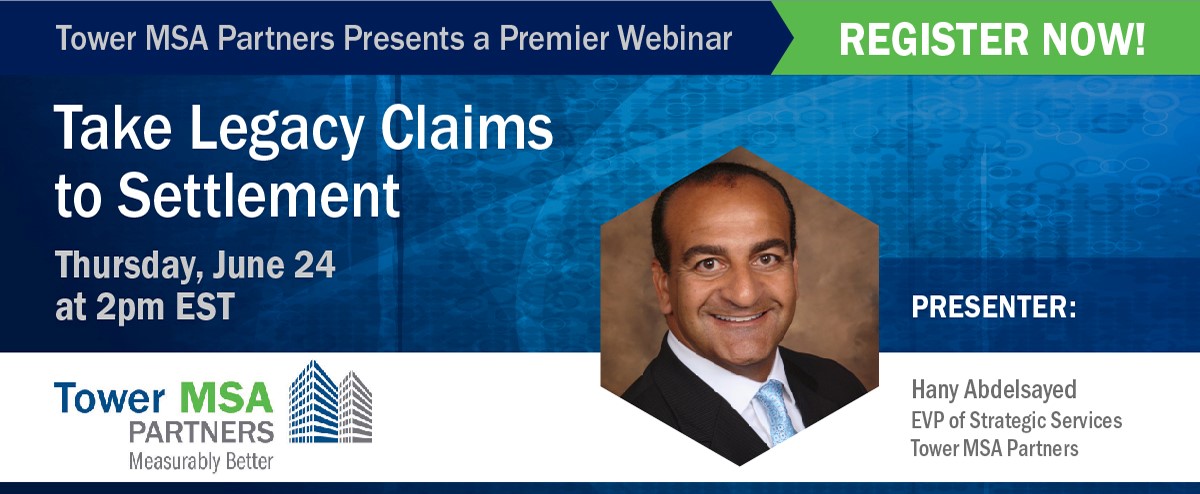 Trying to bring more of your legacy claims to settlement? 
This could be the most valuable webinar you'll ever attend!
Do you have aging claims that continue to draw down on indemnity and medical reserves?  Perhaps there is no ongoing medical, but the injured worker was unwilling to settle. Or maybe a claimant is willing to settle, but a prior MSA placed settlement out of reach.
These legacy claims can be settled with a program that aggressively addresses Medicare Set-Aside (MSA) cost drivers and mobilizes a settlement team that paves the way to claim closure–without increasing your adjuster's workload.
You are invited to join Hany Abdelsayed, Tower's expert in legacy claims settlement initiatives, for a fast-paced webinar on Thursday, June 24 at 2 p.m. Eastern.  You'll learn about:
Recognizing legacy claims both obvious and hidden
Identifying MSA cost drivers, which impede settlement
Clinical interventions that contain MSA costs
Settlement partners who clear the path to settlement/claim closure
A Q&A session will follow the presentation.  Please click the link below and register today!