Premier Webinar: Medicare Advantage Plan Reimbursement – What Now?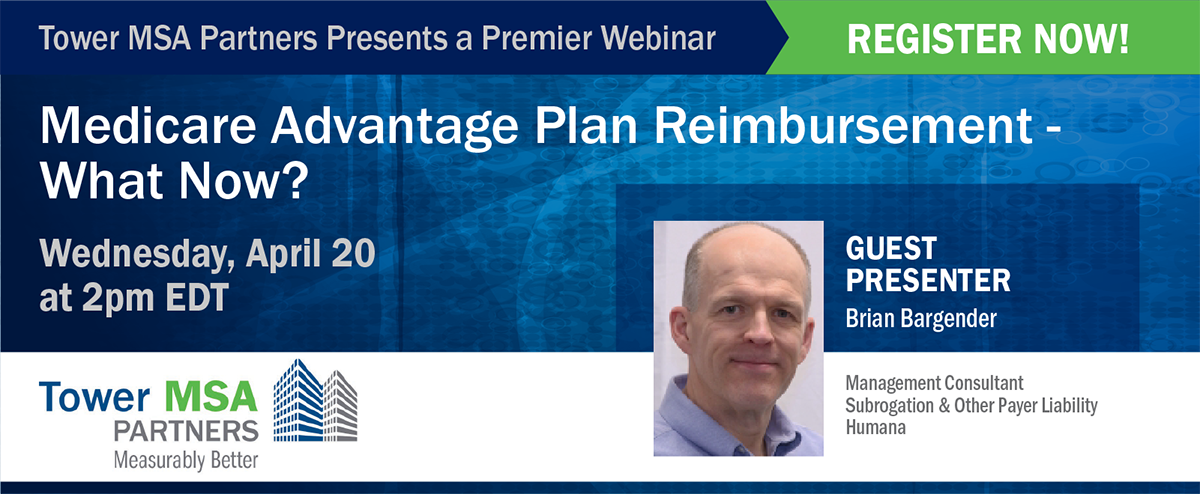 In December 2021, the Centers for Medicare and Medicaid Services (CMS) started providing access to data showing a claimant's enrollment in Medicare Part C and D plans. Now payers are wondering how to best interact with Medicare Advantage (MA) plans and prescription drug plans. What are their reimbursement rights? How does this work with Section 111 reporting?
Tower is pleased to feature a guest presentation by Brian Bargender, Management Consultant, Subrogation and Other Payer Liability for Humana on Wednesday, April 20 at 2:00 PM ET.  Brian is arguably the industry's foremost expert on Part C and D plan subrogation. Humana is the second-largest Medicare Advantage Plan and Part D plan in the country and has been the leading advocate for reimbursement under the MSP Act.
Here's just some of what you will learn:
Role of Part C and D plans in providing services to Medicare beneficiaries.
Reimbursement rights of Part C and D plans under the Medicare Secondary Payer (MSP) Act.
Interplay between CMS and Part C and D plans in use of Section 111 Mandatory Insurer Reporting data.
Part C and D plans role in Workers' Compensation MSAs.
Best practices for working with Part C and D plans to resolve reimbursement claims.
A Q&A session will follow the presentation, and you can provide questions at the time you register. Please click the link below and register today!