Premier Webinar: Care, Cost & Compliance Through MSA Professional Administration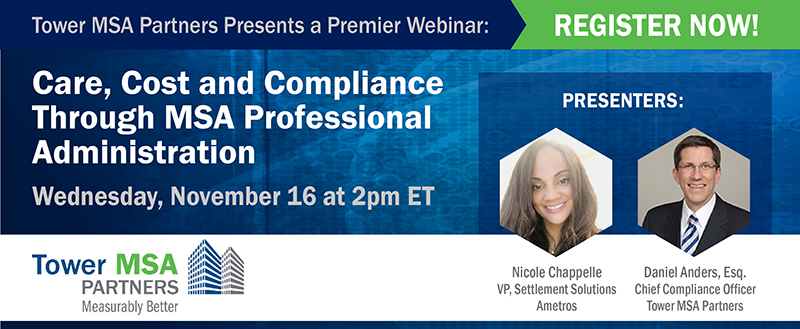 We rightly invest time to draft a Medicare Set-Aside (MSA) that accurately considers future medical care and, when appropriate, obtain approval of the allocation from the Centers for Medicare and Medicaid Services (CMS).
However, we don't always dedicate enough time to address the MSA's post-settlement implications for the injured or ill employee. This is a mistake. The comfort level the injured employee has with how well the MSA will be funded, its administration, and what resources are available to them after the claim closes often leads to their agreement to settle.
Tower MSA Partners is pleased to present this premier webinar on Nov. 16 at 2 PM ET which will feature special guest presenter, Nicole Chappelle, Vice President of Settlement Solutions for Ametros and Dan Anders, Tower's Chief Compliance Officer.
The presentation covers:
CMS rules and options around MSA administration and MSA funding
Self vs. professionally administered MSAs
A step-by-step guide to how MSA professional administration works
Incorporation of MSA professional administration into a settlement agreement and expectations post-settlement
A Q&A session will follow the presentation, and you can provide questions you'd like us to cover when you register. Please click the link below and register today!