Tower Partners: People Behind the Settlements Interview with Kevin Puckett of KP Underwriting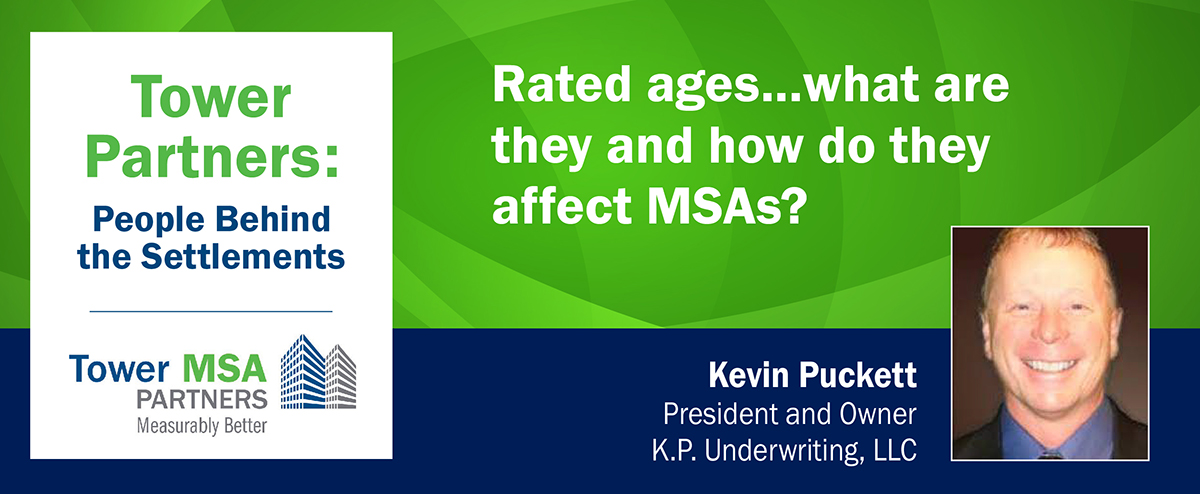 Tower MSA Partners is pleased to launch "Tower Partners: People Behind the Settlements."  This quarterly series will dig into the elements that go into smooth, cost-effective settlements and introduce Tower's team members and corporate partners who make them possible.
First up is Kevin Puckett, owner and president of KP Underwriting, who is responsible for assigning a rated age on most of the MSAs we write.  As Kevin explains, a rated age is the statistical age of a person due to their medical conditions.  A person's actual age may be 60, but their comorbidities and other conditions could cause their rated age to be 65.
Why is this important to the MSA?  Because an MSA is calculated over the injured worker's life expectancy. A higher rated age that reflects a shorter life expectancy reduces future medical costs. This reduction can be significant, sometimes tens or even hundreds of thousands of dollars.
Case in point: a 67-year-old woman with a rechargeable spinal cord stimulator (SCS) would have required two revisions (one every nine years) over her 18-year life expectancy, in addition to other medical costs. The MSA's initial allocation was $142,410.64. However, the rated age came back at 72, reducing life expectancy from 18 to 14 years.  This allowed Tower to remove one SCS revision along with other medical costs. The revised MSA was $98,586.35, a $43,824.29 reduction to the allocation.
Now, let's turn to our rated age expert and partner, Kevin Puckett.
Q & A with Kevin Puckett
What is a rated age? 
A rated age is an adjusted age and reduced life expectancy, that is the expected number of years of life remaining at a given age based on an individual's medical impairments and the impact they have on their body and life expectancy.  The US Health & Human Services National Vital Statistics life expectancy tables set the baseline for life expectancy determinations.
What is your background in providing rated ages?  What qualifies you to provide this service?
I have been the President and Owner of KP Underwriting, LLC, an independent underwriting company since 2004.  KP Underwriting provides rated ages and modified life expectancies for companies that provide structured settlements, Medicare Set-Asides, and medical cost projections. Our services are also used for settlement purposes and to help set reserves. During my 30+ year career in medical underwriting, I worked with multiple life insurance companies, developing and managing underwriting departments before launching KP Underwriting.  I've also written underwriting manuals, audited underwriting departments, and provided expert witness testimony on life expectancy in multiple states and for the Department of Justice.  I earned my BBA in Business Administration with a minor in Biology from Eastern Kentucky University, an Associates designation from the Academy of Life Underwriting, and an FLMI (Fellow, Life Management Institute).
Is KP Underwriting approved to provide rated ages for CMS?
Yes, we've been approved since 2006. KP Underwriting is the single largest provider of rated ages in the country, having provided several hundred thousand rated ages to the Centers for Medicare and Medicaid Services (CMS).
What documentation do you require to calculate the rated age?
Medical records should contain two primary categories of records as listed below.  Medical records within the past two years are considered current and have more weight in rated age calculations.
Current status of the claimed injury includes:

Length of time since injury, permanency of the condition, functional status, stability of treatment, nature of the ongoing treatment.

Overall medical status of the individual including:

All co-morbidities, personal medical history, pharmaceutical use and related conditions.
Medical records older than two years can be utilized, however, the rated age will normally be more conservative as health history and medical impairments can change drastically over a two-year timeframe or longer.
Can you provide examples of diagnoses that will increase the rated age?
Two conditions can impact the rated age and life expectancy: the injury itself and medical impairments.  Good examples of both are as follows:
Injuries

Spinal Cord Injuries, head injuries, amputations, burns, chemical exposure, and falls are the most significant. The best thing to consider with injuries is how and if it impacts daily functioning.

Medical impairments

Most major health impairments will impact the rated age, such as diabetes, stroke, coronary artery disease, obesity, smoking, peripheral artery disease, kidney, colon, and liver diseases, HIV/AIDS, post-covid syndrome, and major respiratory disorders, to name a few. This is a very broad category.  One of the things I cannot stress enough is that medical impairments usually have the biggest impact on the rated age.
Do you solely consider the injury-related diagnoses or both the injury and non-injury-related diagnoses?
The injury and residuals and any medical impairments are both considered in processing the rated age.  We try to let our clients know that not only healthy people get injured.  Medical impairments usually have the biggest impact on rated ages.  In some instances, medical impairments can prevent or delay healing from the injury. For example, diabetes can delay healing in cuts or burns, leading to amputation or slower response to treatment.
What is your typical turnaround time to provide a rated age?
KP Underwriting's turnaround time is usually 2-3 hours, with rush requests completed within an hour.  All cases that come in before 4 pm EST are completed the same day.  All cases after 4 pm are completed first thing the next business day.
What does your rated age report contain?
 The rated age report sent back to our clients is on KP Underwriting letterhead and contains the name, date of birth, gender, current age and current life expectancy, rated age and rated life expectancy, a brief medical summary of the impairments and injuries used in consideration of the rated age, and the table used in our calculations.  These are tailored to meet our clients' needs.
How long has KP Underwriting been in business?
KP Underwriting has been in business since 2004. Initially, we prepared rated ages mainly for life companies and structured settlements.  We branched out in 2006 to include rated age services for MSAs.
Do you do all the rated age calculations, or do you have a staff that assists you?
KP Underwriting grew quickly to the point that I needed help to do them.  I currently have a staff of 10-from underwriters to processors- who assist in the rated age process.
If you want more information on KP Underwriting, you can visit their website or contact Kevin at kevinp@kpunderwriting.com or (502) 345-8048.  And if you have a question about a specific MSA or the impact of rated ages on MSAs in general, I am happy to speak with you.  Email Daniel.Anders@TowerMSA.com.