The Critical Care Nurses Give MSAs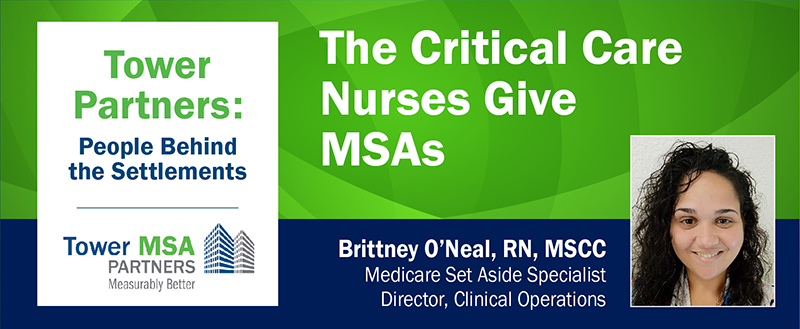 In the second installment of our quarterly series, "Tower Partners: People Behind the Settlements," and in celebration of Nurses Week, we spotlight Brittney O'Neal, our Director of Clinical Operations. A nurse, Brittney oversees the team of nurses that produces our Medicare Set-asides (MSAs).
There are so many elements and areas of expertise needed to develop an MSA that is fair, reasonable and compliant.  Or, as we say: optimized. If Tower's MSA operation was in the shape of a wheel, Brittney would be the hub.  Read on to learn more about her and how our MSAs are written to be effective settlement tools.
What does your position as Director of Clinical Operations entail? And how does your role impact Tower's clients?
I lead clinical operations which includes MSA writing, quality assurance and our Physician Follow-up service. We have a team of RNs who review the records and write MSA reports.  In so doing, they identify potential treatment and pharmacy problems and make intervention and mitigation strategies. As part of our quality assurance, I review MSA allocations for accuracy and make necessary corrections before they are delivered to our clients.  I also oversee our Physician Follow-up team, which is contacting treating physicians to resolve many of the problems we identified in writing the MSA.
Client communication is vitally important. I'm available to answer questions from clients and prospects and help them put together a plan of action to settle a claim.
What led you to become a nurse? What experiences shaped your professional journey?
I actually started in the pharmacy field, wanting to become a pharmacist. However, one of my mentors told me that the industry was moving away from patient care and that I should look into more of the medical side.
How did you get into MSP compliance and MSAs?
Honestly, by chance. I was a pharmacy technician looking for something different and was fortunate to land an interview with Tower MSA Partners. Kristine Dudley, Tower's Chief Operating Officer, gave me an opportunity to turn a job into a career.
How does being a nurse help you in your job at Tower?
Being a nurse enables you to better understand the medical material you are reading to in turn prepare an accurate allocation. It guides your approach to researching services and Medicare coverage and the ability to provide intervention strategies.
What part of the job do you find the most rewarding?
I enjoy being able to help our teams and clients navigate the different aspects of this industry.  It's great to be able to teach and share my knowledge while also learning from others. It is also rewarding to hear from clients who are grateful for the cost-saving measures our team accomplishes and the turn-around time of the reports.
What are some of the things clients ask about most often?
Many questions include whether an MSA or Medical Cost Projection (MCP) is needed, CMS review thresholds, and the Amended Review process. Other questions deal with mitigation tactics to help with cost-saving measures.
How do you facilitate the settlement of claims for Tower clients?
Everything Tower does is designed to facilitate claims settlement.  Carefully reviewing claims for cost drivers, like the wrong body part or duplicative or discontinued drugs. (That pharmacy background really came in handy!)  Turning around reports quickly and recommending and implementing clinical interventions to eliminate unnecessary costs.  Physician Follow-up ensures that treatment changes are properly recorded in medical records and that we have a signed physician statement so CMS can approve our MSA.
Where did you attend school/degrees?
I earned an Associate of Arts degree from Palm Beach State College, then an Associate Degree in Nursing (ADN) from HCI College, also in Palm Beach, Florida.
What do you like best about working for Tower?
The close-knit family atmosphere. No matter what "title" one holds, we all understand the different levels of the workflow and are willing to assist in various areas when needed. Everyone is willing to share their knowledge so that other members can better understand the MSA/CMS process, along with other MSP matters, such as conditional payments and mandatory reporting.
How do you think Tower sets itself apart from companies that sell the same/similar services?
I feel Tower MSA Partners sets itself apart from other companies by promptly being available for our clients to speak with and by having attorneys on staff for consultation. Another way is our free Physician Follow-up service and fast turn-around time on reports.
Where did you grow up, and where do you live now?
I was Born in Long Island, NY, and moved to Palm Beach County, FL as a child.  Now we're living in Saint Lucie County, FL.
Tell us about your background and family.
Prior to joining this industry, I worked in retail and hospital pharmacy which assisted me with transitioning into the MSA world and going on to pursue my RN. My husband is a Firefighter/Paramedic, and we have three children (12, 9, and 5).
What do you like to do on your time off?
On my off-time, I am a busy wife/mom running around to football practices/games and will soon start softball for my baby girl. I also enjoy weightlifting with my husband and family outings.
Thank you to Brittney and all our Tower nurses for your commitment to providing our clients with the highest level of service.  Happy Nurses Week!