South Florida Business Journal Recognizes Tower MSA Partners as a Top 25 Women-Owned Business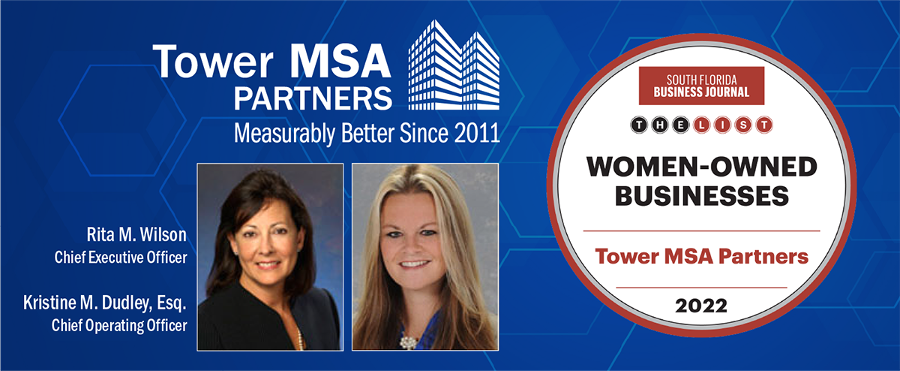 Tower MSA Partners is recognized as a Top 25 women-owned business by South Florida Business Journal.
We know we're good, but we enjoy external validation as much as the next guy – or woman. So, we were quite pleased to learn Tower MSA Partners not only made the South Florida Business Journal's list of Women Owned Businesses, but we ranked among the Top 25.
The publication covers companies in the densely populated Miami-Dade, Broward, and Palm Beach counties. When you consider how many women-owned businesses are in this market, the honor is even more impressive. A 2016 Sun Sentinel story said nearly half of all the women-owned businesses in Florida were based in this area.
Among the metrics used to produce the list is the percentage of the company that is owned by women. For Tower, that's 100%. CEO Rita Wilson and COO Kristine Dudley co-founded the company more than 10 years ago. You can read more about the company's start in this article.
Tower is not only women-owned but 85% of our employees, including most of our managers and supervisors are women.
Tower is also a certified member of WBENC or the Women's Business Enterprise National Council, a leading non-profit organization dedicated to helping women-owned businesses thrive.
If you'd like to connect with Rita or Kristie email them at rita.wilson@towermsa.com or kristine.dudley@towermsa.com.