CIO Review Magazine Ranks Tower MSA Partners Among Top 10 Compliance Technology Services Companies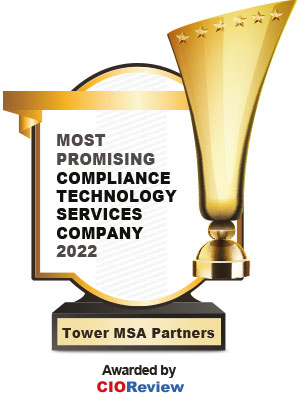 The honors keep coming. Earlier this year, Tower ranked in South Florida Business Journal's Top 25 Women-Owned Business list and now there's national recognition of our technology driven compliance services. CIO Review: The Enterprise Technology Magazine just listed us among its 10 Most Promising Technology Compliance Services Companies for 2022 and featured Tower in this article.
When our Co-founders Rita Wilson and Kristine Dudley looked at the Medicare Set-Aside (MSA) landscape back in 2010, they found it littered with paper and inefficient processes. Everything was manual. Few providers tried to mitigate costs. And MSAs took so long to produce that some settlements fell through.
After talking with prospective clients to determine their pain points, Rita and Kristie knew they needed to accelerate MSA production. They automated Medicare Secondary Payer (MSP) compliance and MSA best practices into Tower's MSP Automation Suite.
Because the suite easily integrates with any claims system and gathers data needed to prepare the MSA, it immediately reduced payers' administrative burden. For the first time, clients also had 24/7 visibility into the entire claim. They could pull reports and check the status of an MSA anytime.
The suite also prompts for next steps and missing data to help keep claims moving. MSAs can be produced in days instead of weeks.
Tower's MSP Automation Suite was designed so modules could be easily added to quickly adapt to changes from the Centers for Medicare and Medicaid Services. For example, when the agency announced plans to impose high penalties for inaccurate or slow Section 111 Mandatory Insurer reporting, Tower built a dashboard to steer compliance efforts to help clients avoid these future penalties.
The technology helps us mitigate MSA costs and immediately implement CMS changes. It also makes compliance more efficient for Tower's clients and employees.  It frees our professionals to concentrate on clinical and legal interventions to reduce allocations and focus on our clients.
One of our clients said, "Tower MSA has been a great partner for us! I have been very impressed with their level of communication and availability to help answer questions. Their easy referral process and fast turnaround times are much appreciated."
Naturally, we enjoy external validation from honors like the CIO Review recognition. But it's a real honor to serve our client partners who are some of the most respected payer organizations in the industry.
We're constantly looking for ways to improve, meet clients' needs, and exceed their expectations. Please contact Rita Wilson, rita.wilson@towermsa.com with any questions, suggestions, or other ideas.