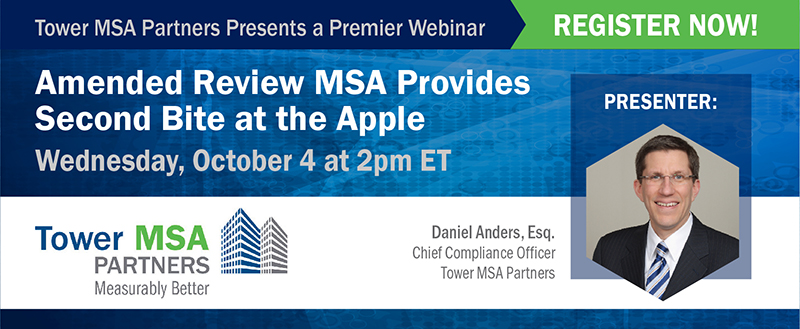 CMS now allows any previously approved MSA to have a one-time Amended Review.  This means that CMS will consider a new MSA submission that may be lower or higher than the previously approved MSA. Essentially, it is a second bite at the apple for old MSAs that, for whatever reason–they were too high, or the injured worker was not ready to settle–weren't utilized for settlement.
Tower is pleased to feature our Chief Compliance Officer, Dan Anders, who on Wednesday, October 4, at 2:00 PM ET, will address the following topics:
Criteria for an Amended Review MSA
Is an Amended Review MSA required?
Documentation to support an Amended Review MSA
Examples of Amended Review MSA submissions
Besides Amended Review MSAs, the webinar will also consider how MSA Re-Reviews can reduce MSA amount resulting from CMS counter-highers.
A Q&A session will follow the presentation, and you can provide questions when you register. Please click the link below and register today!
Please note there is no CEU credit offered for this webinar.