Tower MSA Partners 10-Year Anniversary and 10 Distinguishing Achievements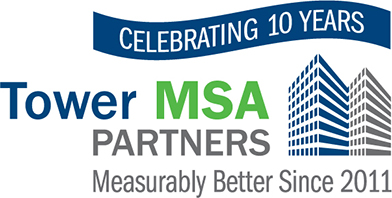 We're celebrating the Tower MSA Partners 10-year anniversary this year! To commemorate this landmark year for our business, we've compiled 10 distinguishing achievements over the decade that we're proud of and that we think differentiate us from others in our field.
Our single focus. We don't try to be all things to all people, we focus on doing one thing extremely well. Everything we do is geared toward smooth settlements with 100% compliance with Medicare, cost-effective Medicare Set-Asides (MSAs) and partnering with clients on outcomes. Focusing our business model on Medicare Secondary (MSP) compliance and MSAs enabled Tower to develop technology specifically for this industry, hone our expertise, and become the industry's "go-to" experts in these areas.
We are "Measurably Better." Our tag line "Measurably Better" is not just a clever use of words, it's the backbone of all that we do. We run our business on metrics, tracking and measuring everything that matters in MSP compliance and MSAs.  Metrics drive Tower's internal efficiency improvements and technology enhancements.  It's how we help our clients improve their MSP compliance and MSA programs and how we prove we—and our clients' programs–are measurably better.
Our commitment to continuous improvement. We've aggregated 5 years of CMS response data to identify CMS performance metrics that matter to our clients and we track these monthly. And we continue to monitor every response CMS has to every one of our MSA submissions. When we think CMS is wrong, we challenge by proactively pushing the envelope to get the best possible results for our clients. Otherwise, we use the response data to reverse engineer internal processes to improve our MSA work product.
Everything we do is technology driven. We built our own technology from the beginning specifically to address this industry and our clients' needs. Our technology is based on the best practices of MSP compliance and MSA preparation. There's no patchwork of disparate systems or data in silos that needs to be extracted, just a seamless, integrated system that drives all compliance and MSA processes.  Tower's Section 111 Management Dashboard gives clients full visibility into their claims from a global level all the way down into the details of an individual claim. Technology Drives Better Medicare Secondary Payer Compliance.
Our commitment to cybersecurity. With a clear understanding of the importance of our systems, software, and data to Tower's business functions and a keen awareness of the reality of cyberthreats in today's digital environment, Tower has taken major steps to develop its enterprise-wide security infrastructure to guard against, detect and mitigate cyberattacks. This includes partnering with a data security firm that monitors data traffic 24/7, responds to threats in real time, provides direction to keep client data secure, and gives Tower unlimited access to incident response resources if attacks occur. monitoring data traffic 24/7, responding to threats in real time and   Building a Better Tower – Cybersecurity.
We've earned external third-party validation.  Tower MSA Partners completed its SOC 2 Type II audit, providing external third-party validation that a service organization's information security practices meet industry standards stipulated by the AICPA. Tower MSA Partners Completes SOC 2 Type II Audit.
We are independent and women owned. We are wholly owned by our founders, CEO, Rita Wilson and COO, Kristine Dudley, Tower is a certified Women's Business Enterprise (WBENC). Celebrating Tower's History as a Women-Owned Business.
Our stellar team. You can meet our outstanding leadership team, the top experts in the business. The passion and dedication of our certified MSA specialists, nurses, Quality Assurance team, and compliance staff are incredible. Their efforts enable Tower to manage by our metrics and drive results. Many have been with us since the beginning and became managers as they gained knowledge and skills. We are a cohesive team at all levels. But for our real secret sauce, learn more about how Tower Nurses Make a Difference.
We get results. Our systematic, aggressive approach to identifying and reducing unnecessary cost-drivers on MSAs saves clients hundreds of thousands of dollars on MSAs. Our certified specialists know what to look for and our technology, metrics, and processes give them all the tools they need to find every cent of savings. Because we record CMS response to every MSA, we can confidently produce MSAs that balance care, cost, and compliance.  Check out our case histories, request others or ask for a free second opinion on an MSA.
Our clients love us. Hers's an excerpt from one: "Second to None"….When I hear this idiom, I immediately think of Tower MSA Partners… While there are many MSA vendors, only one company, Tower MSA Partners, is "Second to None." Tower serves their partners by guiding and directing from start to finish. They have advanced technology and certified specialists to ensure no stone is unturned. Regardless of the complexity or how fast you need help, Tower leads and delivers results that are always accurate and timely, serving you like family. Bryan Conner, Manager, Workers' Compensation, American Airlines. See our Testimonial page to read more from Bryan and our other clients.
We are honored to serve clients like American Airlines, Acuity Insurance, Aramark, BETA Healthcare Group, CPC Logistics, Montana State Fund, Tyson Foods, and others, some who prefer not to have their names published.  From the beginning, Tower sought partnership relationships with clients; we put "partners" in our name.
On our 10th Anniversary, I want to thank our client partners who have trusted us with their MSP and MSA needs, our employees who are just stellar, and our executive leadership team who are the best of the best.  We look forward to continuing to serve our existing clients, help new ones achieve their goals, and continue our close partnerships.